How To Get France Visa Appointment From London, UK?
Whenever anyone discusses a trip to Europe or even romantic places on Earth, France's name is bound to pop up during the discussion. From food to fashion, romance, and history, there is nothing that France doesn't offer. It is a must-visit for every traveler. Also, being one of the Schengen Nations, a France visa or France Schengen visa will give you access to France and 25 other European countries that are part of the Schengen region.
If you're planning to visit France and need a visa to enter the country, securing a visa appointment is crucial. This blog post will provide a step-by-step guide to obtaining a France visa appointment from London. By following these instructions, you'll be well on your way to embarking on your exciting journey to France.
How to apply for France Visa from London, UK?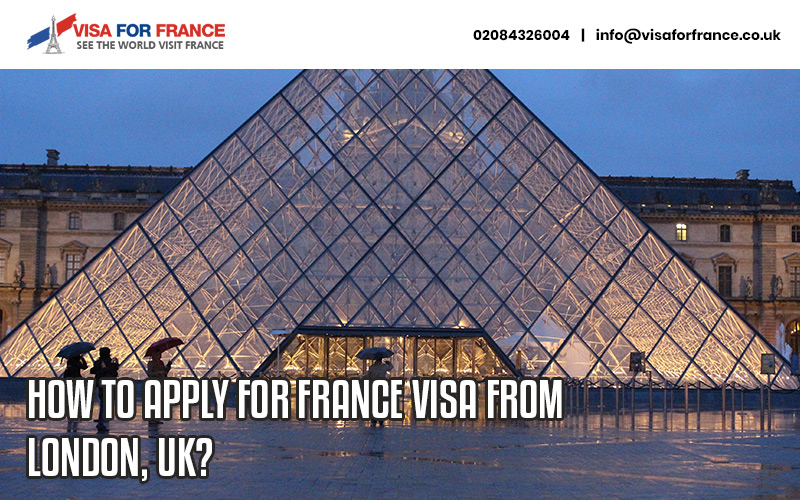 Applying for a France visa from London can be a daunting task. From different visa types to documents required, eligibility criteria and visa fees, there are many aspects to figure out before starting the France visa application process. That's why we have provided you with a step-by-step guide to applying for a France visa below:
The main steps in applying for a France Schengen Visa UK
Step 1: Determine the Type of Visa You Need
The first step is to identify the type of visa you require based on the purpose of your visit. Whether it's a tourist visa, business visa, student visa, or any other category, ensure you clearly understand the specific visa requirements before proceeding.
Step 2: Initiate the France Visa Application Process
Once you have confirmed the visa type and category, visit Visa for France and familiarize yourself with the documents necessary for your visa application. Common documents include a valid passport, visa application form, proof of travel insurance, proof of accommodation, and supporting documents based on your visa category.
Visa for France collects all the applications and documents; however, the France Embassy is solely responsible for making the decisions related to granting or rejecting France visas.
Step 3: Pay the Required France Visa Fees
Paying the applicable visa fees is important once you have started the application process. The fee amount will depend on the type of visa you're applying for and may vary. Make sure you pay the fees correctly within the specific time frame.
Step 4: Schedule a France Visa Appointment
Once you have applied with confirmed payment, the team will book your France visa appointment in the UK at the Visa Centre.
Step 5: Visit the Visa Application Centre
On the day of your visa appointment, visit the chosen visa Application Centre in London well ahead of your scheduled time. Bring all the required documents, including your passport, appointment confirmation, payment receipt, and supporting documents. Be prepared to answer any questions about your trip and provide an additional document and biometric data collection if required.
Step 6: Collect Your France Visa from London
Once the visa is processed and your application is approved, you will be notified to collect your passport.
What Documents are required for a French Schengen Visa Application UK?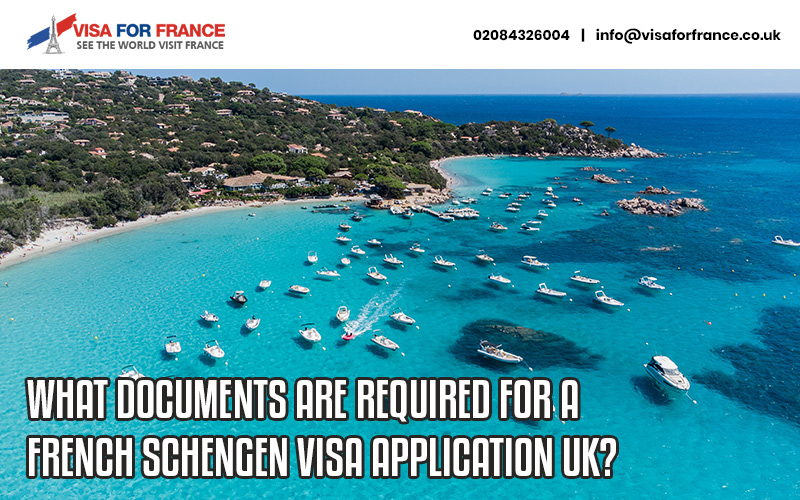 The most important part of the application process for a France visa is collecting the required documents. The documents are the core of your application. Based on these documents, the French authorities will decide whether you should get a visa to France or not.
When applying for a French Schengen Visa from the UK, you will generally need to submit the following documents:
France visa application form: Fulfil the form with your computer, print it, and sign it at the end.
Two passport photos: The photos should be identical and taken according to the photograph requirements and specifications for the French Schengen visa application.
Valid Passport: Make sure your passport is not older than 10 years and validates at least three more months beyond the date you plan to leave France and the whole territory of Schengen.
Copies of your previous visas (if applicable)
France Travel Health Insurance: Purchase travel health insurance valid for the territory of metropolitan France and all other Schengen countries. Provide a document that confirms your insurance covers medical emergencies in this zone with a minimum coverage of €30,000.
A cover letter: Explain clearly and truthfully in this letter why you wish to enter France, what you will be doing here during your permitted stay, and other details regarding your trip.
Round-trip Flight Itinerary: If you plan to enter France by air, submit a flight reservation with the dates and flight numbers specifying entry and exit from France.
Proof of accommodation, i.e., Hotel reservation for the intended stay in France.
Proof of civil status: This could be a marriage certificate, birth certificate of children, death certificate of spouse, etc.
Proof of sufficient financial means for the period of stay in France
Remember that these document requirements may vary slightly depending on the consulate or embassy handling your application. It is always recommended to visit the official website of the French consulate or embassy in the UK for the most accurate and up-to-date information regarding the specific document requirements for a French Schengen visa application.
How Long Does It Take to Get a French Visa?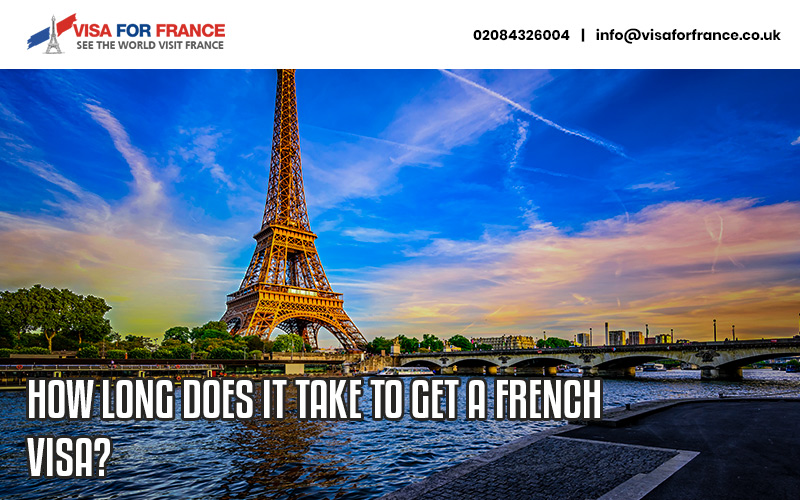 Under normal circumstances, the processing time for a France visa application may take up to 12 to 15 calendar days. However, submitting all the documents correctly can reduce the time to less than 12 calendar days.
This is why indulging your French short-stay visa application is strongly advisable as soon as possible, though not earlier than three months before your trip to France.
Conclusion
Securing an Appointment for France Visa may seem daunting, but following this step-by-step guide gives you a clear roadmap to successfully obtaining your France visa from the UK. Remember to gather all the required documents, book your appointment online, pay the visa fee, attend the appointment on time, and track the status of your application. With proper preparation and organization, you'll soon be ready to explore France's beautiful sights and experiences.
FAQs
Q. How early should I book my France visa appointment from London?
Ans. It is recommended to book your visa appointment as early as possible. Consulates and embassies often have limited appointment slots and can fill up quickly, especially during peak travel seasons. Booking in advance will help ensure you secure a convenient date and time for your appointment.
Q. What documents do I need for a France visa application?
Ans. The specific documents required may vary based on the type of visa you are applying for. However, common documents include a valid passport, completed visa application form, proof of travel insurance, proof of accommodation, financial statements, and supporting documents based on your visa category.
Q. How long does it take to process a France visa application?
Ans. The processing time for a visa application can vary. It typically takes around 15 calendar days for a decision to be made, but it may take longer during peak seasons. Applying well before your intended travel dates is advisable to allow sufficient processing time.
Q. How should I apply for France Visa London?
Ans. To apply for France Schengen Visa in London UK, you just need to follow the four-step process. These include:
Fill up the online visa application form
The team will book your visa appointment at the visa center
Visit the Visa Centre with all the required documents
Get your visa UK
Q. Do I need to appear in person for the visa appointment?
Ans. Yes, appearing in person for your appointment is generally required. This allows the visa officer to verify your documents, ask any necessary questions, and gather biometric data, such as fingerprints. Alternate arrangements may be possible in certain cases, such as for minors or individuals with special circumstances.